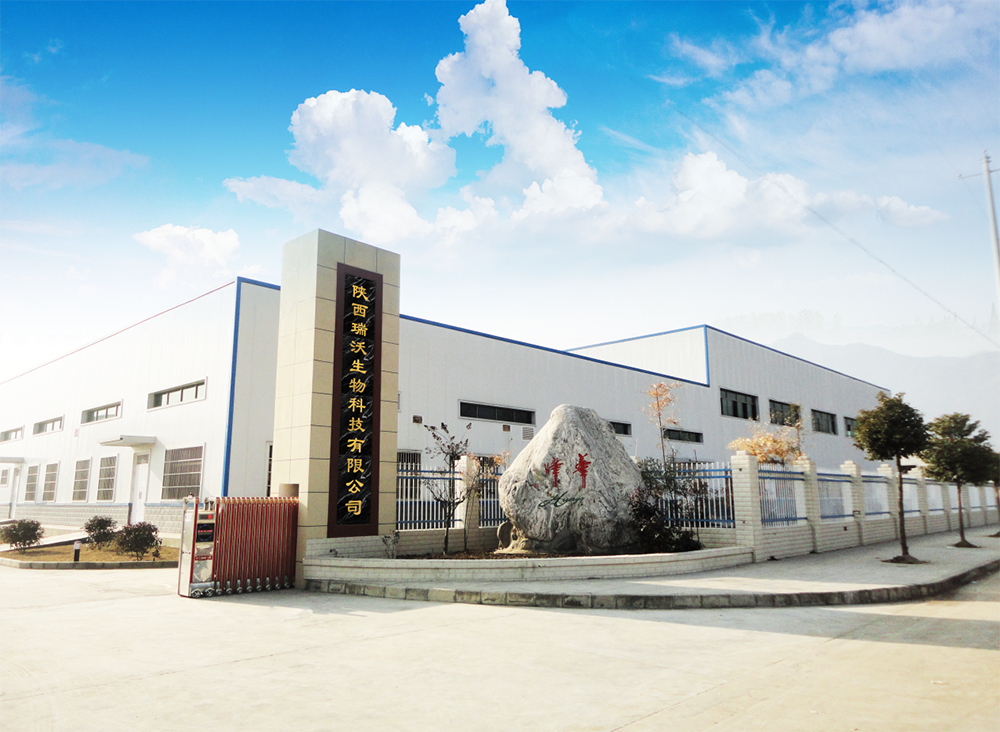 Shaanxi Ruiwo Phytochem Co., Ltd. a high-tech manufacturing enterprise, is dedicated to research and development, production and sales of natural plant extracts, Active monosour, Ingredients. We has been committed to providing steady supply of products and innovative services to customers in industries of global pharmaceutical, health care, cosmetics and so on .
To ensure supply for authentic medicinal materials of the highest quality, Ruiwo has established a global direct sourcing system for raw materials. And in order to maintain high-quality for raw materials, Ruiwo has built herbal planting bases all over the world.
Ruiwo attaches high importance to the construction of quality system, regarding quality as life, and implements GMP standards strictly to maintain high quality. Yet we have passed certification for 3A, ISO9001, ISO14001, HACCP, Kosher, Halal and food production licenses(SC). Ruiwo owns a standard laboratory equipped with a full set of equipment, including instruments applied to TLC, HPLC, UV, GC, microbiological testing and so on. Also, Ruiwo has established in-depth strategic collaboration with world-renowned third-party testing laboratories such as SGS, Eurofins, Leon Testing and PONY Testing, to jointly ensure our capabilities of strict product quality control .
Annual production of Chinese medicinal materials
3A, ISO9001, ISO14001, HACCP, Kosher, Halal and food production license (SC)
Set up three production bases in Malaysia, Xianyang and Ankang
Established in-depth strategic cooperation with world-renowned third-party testing laboratories such as SGS, Eurofins, Leon Testing, PONY Testing, etc.
As Ruiwo develops, in order to improve market competition ability, we pays more and more attention to systematic management and professional operation, and continuously enhances our own scientific research capabilities.
For the purpose of constant promotion for our comprehensive strength, we have cooperated with scientific research and teaching units such as Northwest University, Northwest Agricultural and Forestry University, Shanxi Normal University, Shanxi Pharmaceutical Group and so on. And we have jointly established R&D laboratories to develop new products, optimize production processes, and enhance yield.
Ruiwo has set up three production bases in Indonesia, Xianyang and Ankang.
We have multiple production lines with equipment for extraction, separation, concentration, drying, etc for multifunctional plant extraction. We're capable to annually process nearly 3,000 tons of various Chinese medicinal materials, and to annually produce 300 tons of Chinese medicinal raw materials. With GMP standard production system and advanced industrial-scale production technology and management approaches, we are dedicated to provide customers in various industries with products of guaranteed quality and stable supply along with high-grade supporting services.
Our enterprise vision is Make The World Healthier and Happier.
Depending on our unique advantages in imported raw materials, we will continue to follow the purpose of regarding quality as life, and to strictly control the quality of our products. In this way, we are capable to serve customers in pharmaceutical, health food and cosmetics industries, and to add new value to products.