Gardenia Melanin Colorant
Product Name: Gardenia Melanin Colorant
Active Ingredient: Gardenia Melanin
Part Used: Fruit
Appearance: Dark Powder
Extract Method: Water/Enthanol
Application scope: Applicable in food, beverage, condiment(soy sauce, vinegar etc.) products.
Property: Dark black powder, lump, paste or liquid, slightly special odor, tasteless, soluble in water, ebony
Source: Natural colorant extracted from the fruit of Gardenia jasminoides (Gardeniaauqusta var. qrandiflora), a plant of the Rubiaceae family, using modern biotechnology.
Certificate: KOSHER, HALAL, ISO,ORGANIC CERTIFICATE;
What is Gardenia Melanin Colorant?
A unique natural colorant extracted from the fruits of Gardenia jasminoides of Rubiaceae. This colorant is extracted by biological fermentation and physical production methods, the product is pure and of high quality.
Gardenia melanin is in the form of black powder, easily soluble in water and other hydrophilic solutions. It is insoluble in oil and has excellent heat resistance and light resistance. In addition, the color of gardenia melanin stain is not affected by the change of pH value and is a highly stable colorant choice.
Applications of Gardenia Melanin Colorant:
Due to its excellent stability and high quality, gardenia melanin colorant is an ideal natural choice for manufacturers in the food and beverage, and flavoring industries. It enhances the visual appeal of products while maintaining their natural and healthy image. In addition, this colorant is an excellent choice for vegetarian and vegan products that require a natural coloring option.
So, if you are looking for a stable, high quality, easily soluble natural coloring, then choose Gardenia Melanin Colorant. Add this product to your product library and give your products the visual edge they deserve.
FAQ
Q1: Are you manufacturer or trading company?
Manufacturer.We have 3 factories, 2 based in Ankana, Xian Yang in China and 1 in Indonesia.
Q2: Can I get some sample?
Yes, usually 10-25g sample for free.
Q3: What's your MOQ?
Our MOQ is flexible,usually 1kg-10kg for trial order is acceptable, for formal order MOQ is 25kg
Q4: Is there a discount?
Of course. Welcome to contactus. Price would be different based on different quantity. For bulk
quantity, we will have discount for you.
Q5: How long for production and delivery?
Most products we have in stock, delivery time: Within 1-3 business days after received payment
Customized products further discussed.
Q6: How to deliver the goods?
≤50kg ship by FedEx or DHL etc, ≥50kg ship by Air, ≥100kg can be shipped by Sea. If you have special request on delivery, please contact us.
Q7: What is the shelf life for the products?
Most products shelf life 24-36 months, meet with COA.
Q8: Do you accept ODM or OEM service?
Yes.We accept ODM and OEM services. Ranges: Soft qel, Capsule, Tablet, Sachet, Granule, Private
Label service, etc. Please contact us to design your own brand product.
Q9: How to start orders or make payments?
There are two ways for you to confirm order?
1.Proforma invoice with our company bank details will be sent to you once the order confirmed by
Email. Pls arrange payment by TT. Goods will be sent after received payment within 1-3 business days.
2. Need to be discussed .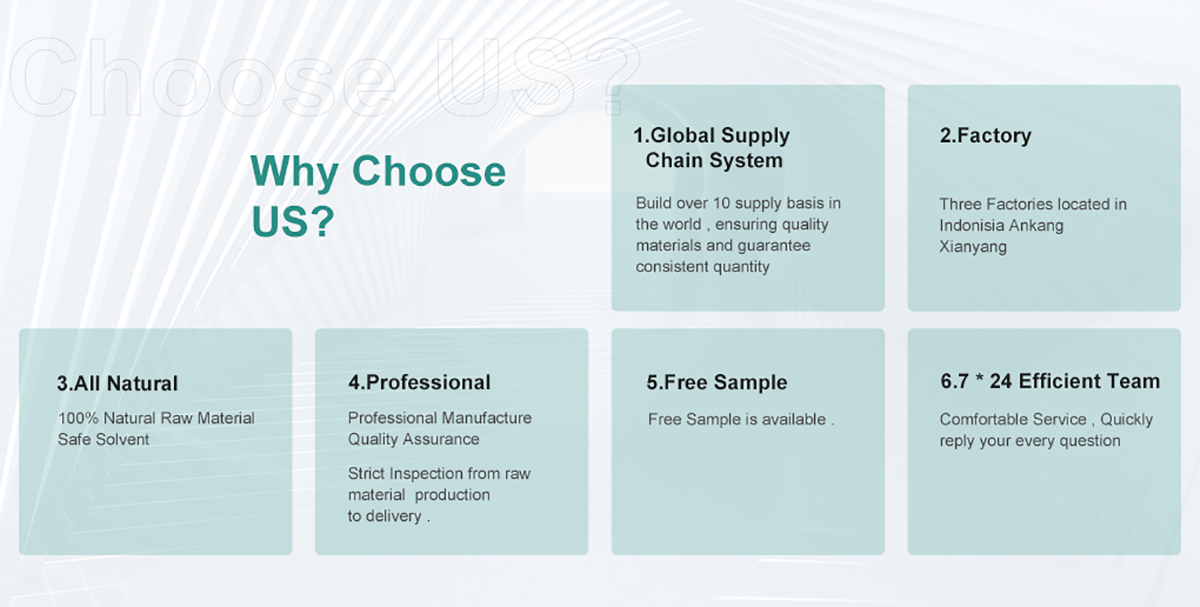 ---
Previous:
Gardenia Yellow Colorant
---